If you melt it, they will come.
How a flat tire helped Tom Carvel invent The Original Soft Serve™.
It all started during Memorial Day weekend in 1934. When Tom Carvel's ice cream truck got a flat tire, he pulled over and began selling the slightly melted ice cream. Much to his surprise, people preferred it softer. And the rest, as they say, is history. Today, our delicious treats and classic ice cream cakes are a staple at birthdays, holiday parties, or any occasion worth celebrating.
Carvel has always led the industry
Innovation is a part of our culture. From the moment Tom Carvel invented soft ice cream to today, we have constantly come up with new flavors, cakes, treats, machines, ideas and more.
1906

Thomas A. Carvel is born in Athens, Greece on July 14th.

1929

Tom Carvel begins selling ice cream from his vending truck.

1934

Nation's first retail ice cream company is founded.

1936

Carvel Corporation is formed. Tom Carvel patents a "no air pump" super-low temperature ice cream.

1947 Carvel® is the first to franchise a retail ice cream shop in the United States.

1951 The brand introduces the Flying Saucer® and celebrates its 100th shoppe.

1956 Carvel® starts selling ice cream novelties at the first ice cream supermarket ever.

1969 Carvel® launches a complete line of all-kosher products.

2001 Carvel® is sold to affiliates of Roark Capital Group.

2002

The company sets the Guinness World Record for Largest Ice Cream Scoop Pyramid.

2004

FOCUS Brands is created.

2005 Carvel® adds Sundae Dashers® to its menu.

2013 Branded Sundae Dashers® are added to the menu.

2014

The brand celebrates its 80th Anniversary.

2017 Fudgie the Whale® celebrates his 40th birthday.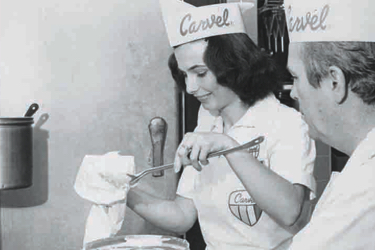 In an imported, pre-packaged, flash frozen world, true freshness stands out. That's why we have always made everything right in the shoppe. It may take time, effort and passion, but the end result is a smooth, creamy flavor that can't be matched anywhere else.
Tom Carvel in His Own Words
Tom was the first CEO to appear in his company's commercials. People to this day remember the gravely, down-to-earth voice and smile. Listen to Tom Carvel for yourself:
---
Tom Carvel was as inventive with Carvel's marketing as he was with the shoppes' new cakes and flavors.
audio transcript
Tom Carvel's goal was to create a Father's Day "Whale of a Dad" cake. Fudgie turned out to be not only a popular dessert, but an iconic spokesman for the entire company.
audio transcript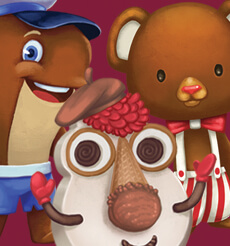 Carvel has always been known for their fun characters. Whether it was Captain Carvel in the 1973 comic book or the iconic Fudgie the Whale.
Read More

TOP