Treat yourself with NEW Salted Caramel Cold Brew Ice Cream
Find A Shoppe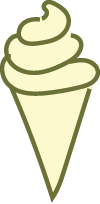 Salted Caramel meets Cold Brew coffee for a delicious treat, anytime
We are firm believers in Carvelebrating: doing something special to treat every life moment as if it were major. And we can't think of a better way to Carvelebrate than with our newest flavor, Salted Caramel Cold Brew. We've combined cold brew coffee with a touch of salted caramel to make it extra delicious. So next time you want to turn an ordinary moment into an extraordinary one, stop by your local shoppe and make it a Carvelebration!
Find Salted Caramel Cold Brew at Carvel
Available at participating shoppes, while supplies last. See if there's one near you.
Sorry! No Stores found in the area of .
Search again with another city, state or zip code.
TOP