Connect With Us
MEDIA INQUIRIES:

Media Gallery
Want a closer look at our treats and shoppes? Download our logo and assets.
Take Me There
Carvel® to Surprise Fans with a Special Treat during the month of September
September is the most popular month for U.S. birthdays and Carvel wants to celebrate you
September 05, 2018
Atlanta, GA
---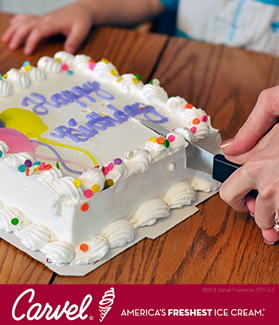 Carvel... America's Freshest Ice Cream® knows how to celebrate a birthday and there's no better time than the most popular birthday month of the year! Research shows that the week and a half between September 9th and 20th contains nine of the top ten birthdays in America.* If you're born in the month of September and a Fudgie Fanatic subscriber, Carvel wants to buy your birthday cake! At the beginning of the month, Carvel will randomly select 50 members of the "Fudgie Fanatics" email club to receive a $50 Carvel gift card to use for their birthday ice cream cake!
Carvel ice cream cakes are a family tradition with many of the brands' longtime fans. In fact, birthday cakes are our most popular cakes. During a month when celebrations are abundant, Carvel hopes this surprise gift card will inspire even more people to make a Carvel ice cream cake part of their birthday tradition.
"Our beloved brand has been a part of Americans' birthday celebrations for over 84 years, so who else would be more trusted to deliver the most perfect celebratory cake. With so many of our fans having September birthdays, we wanted to show our appreciation by surprising them with an ice cream treat on us," said Scott Colwell, president of Carvel.
A spoonful of Carvel ice cream with that iconic crunch brings back a lifetime of birthday memories. So whether you're looking for a crunchies-filled Fudgie the Whale® or an edible image cake with a nostalgic photo of the birthday boy or girl, Carvel will make it a birthday to remember. While vanilla and chocolate are the most popular flavors for Carvel ice cream cakes, the cakes are easily customizable and can be made with any flavor of soft ice cream available in Carvel shoppes.
To stay updated on all things Carvel, follow the brand on Twitter and Instagram at @CarvelIceCream, like it on Facebook at www.facebook.com/CarvelIceCream, or visit Carvel.com.
*Stiles studied 20 years of birth data from 1994 to 2014, recorded by the U.S. National Center for Health Statistics and the U.S. Social Security Administration.
SOURCES:
---
About Carvel Ice Cream
The United States' first retail ice cream franchise, Carvel® Ice Cream has become one of the best-loved and most recognized names in its industry. The company is a leading provider of premium soft ice cream and hand dipped ice cream products, as well as uniquely shaped ice cream cakes, including its signature Fudgie the Whale® and Cookie Puss® cakes. As of June 25, 2023, Atlanta-based Carvel had more than 350 locations in nine countries. Visit
www.carvel.com
for more information, follow us on Twitter
@CarvelIceCream
and
Instagram
or become a fan on
Facebook
.
TOP