Connect With Us
MEDIA INQUIRIES:

Media Gallery
Want a closer look at our treats and shoppes? Download our logo and assets.
Take Me There
Carvel® Partners with Air Bud Entertainment for Pup Star: Better 2gether
Movie fans can continue the celebration at home with the Pup Star edible image cake from Carvel and enter to win the Pup-tastic Talent Search
July 31, 2017
Atlanta, GA
---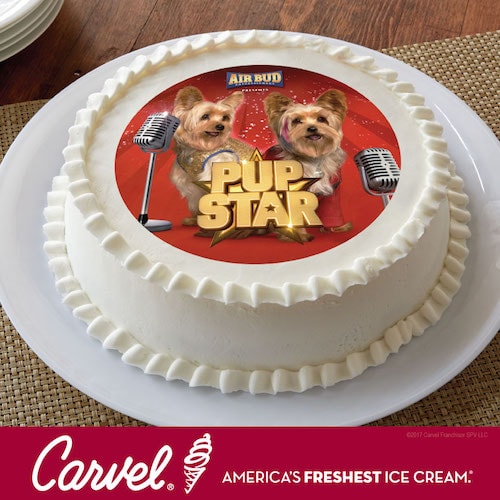 Yip, Yip, Hooray! Carvel®…America's Freshest Ice Cream® is partnering with Air Bud Entertainment for the release of PUP STAR: BETTER 2GETHER, debuting on Digital HD and VOD on August 29.
From August 7 thru August 11, Carvel is calling upon all proud pooch owners to "Help Carvel Find the Next Pup Star" by uploading a picture or video of their dog's best talent on Facebook, Twitter, or Instagram using the hashtag #CarvelPupStar. The winner will receive two "VIP" (very important pup) tickets to walk the red carpet and attend the NY Theatrical Premiere Screening of PUP STAR: BETTER 2GETHER on August 19 in New York City. Carvel and Air Bud Entertainment will select and announce the winner on August 15.
"We are always thrilled when movie stars celebrate with Carvel, and Tiny's birthday is no exception in this entertaining, family-fun film," said Scott Colwell, president of Carvel. "We are eager to see what other clever canines we uncover through our talent search contest!"
In honor of the partnership, Carvel is offering an exclusive edible image cake featuring the Pup Star herself, Tiny, and her doppelganger, Scrappy. These specialty cakes are only available at Carvel shoppes from August 28 through September 25. Customers will receive $5 off a Digital HD download on FandangoNOW with the purchase of each Pup Star specialty cake. Prices may vary by location.
For more information on the partnership and movie, please visit Airbud.com . To stay connected to all things Carvel, follow the brand on Twitter and Instagram at @CarvelIceCream, like it on Facebook at www.facebook.com/CarvelIceCream, or visit Carvel.com.
---
About Carvel Ice Cream
The United States' first retail ice cream franchise, Carvel® Ice Cream has become one of the best-loved and most recognized names in its industry. The company is a leading provider of premium soft ice cream and hand dipped ice cream products, as well as uniquely shaped ice cream cakes, including its signature Fudgie the Whale® and Cookie Puss® cakes. As of June 25, 2023, Atlanta-based Carvel had more than 350 locations in nine countries. Visit
www.carvel.com
for more information, follow us on Twitter
@CarvelIceCream
and
Instagram
or become a fan on
Facebook
.
About Air Bud Entertainment
The company behind the beloved AIR BUD and DISNEY AIR BUDDIES franchises, Air Bud Entertainment is celebrating 20 years as a trusted family brand, which has become part of the social fabric across generations of children, parents and grandparents. Offering original family-friend films across numerous multi-media and digital platforms, fans can also now watch exclusive programming on Air Bud TV including original, all new short form content and TV series. Visit and subscribe to http://airbud.com and https://www.youtube.com/channel/UCHAL_UurzMKDyrpddriiuXA .
TOP