Connect With Us
MEDIA INQUIRIES:

Media Gallery
Want a closer look at our treats and shoppes? Download our logo and assets.
Take Me There
Carvel® Ice Cream's Fudgie the Whale® Turns 40
Carvel celebrates its iconic character with fundraiser for Save the Whales
May 30, 2017
Atlanta, GA
---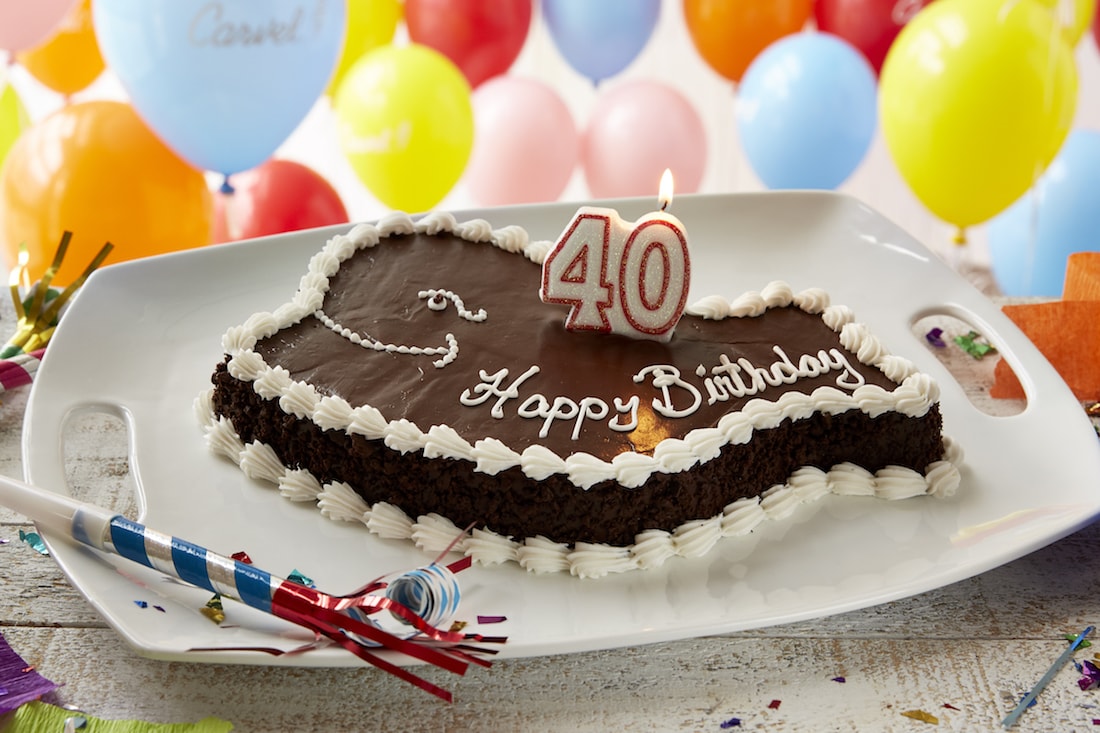 Carvel…America's Freshest Ice Cream® is celebrating a whale of a birthday on June 1, as the brand's famous ice cream cake character, Fudgie the Whale®, turns 40 years old. Since his creation in 1977, Fudgie the Whale has achieved pop-culture icon status and is beloved by countless American families. Originally developed as the ultimate Father's Day dessert touting the message "For a Whale of a Dad", Fudgie has evolved into a celebratory favorite for any occasion.
Did You Know?
More than 50,000 Fudgie the Whale cakes are sold in Carvel shoppes each year – that's nearly equivalent to the weight of two humpback whales!
Fudgie has been featured or mentioned on dozens of hit TV shows over the years including Saturday Night Live, How I Met Your Mother, LIVE! With Kelly & Ryan, The Office, The Simpsons, and Family Guy.
In select shoppes, Fudgie is kept company by his girlfriend, Ms. Fudgie, who features pink accents and a killer set of lashes.
"Fudgie the Whale holds a special, nostalgic place in the hearts of many Americans across multiple generations," said Scott Colwell, president of Carvel. "He represents memories of pure joy and togetherness, all the way down to his core of irresistible crunchies!"
In lieu of birthday gifts, Carvel and Fudgie the Whale are calling fans to action around a very special cause – saving other whales across the ocean! In honor of this tremendous milestone, Carvel is partnering with the non-profit, marine wildlife conservation organization, Save the Whales, which is also celebrating its 40th anniversary.
Friends of Fudgie can send virtual birthday wishes to the lovable finback using #40YearsofFudgie or when they visit Carvel.com/FortyYearsofFudgie. There, they can discover more about the mission of Save the Whales and learn how they can contribute to Carvel's fundraising efforts. Carvel will be collecting donations to benefit Save the Whales starting June 1 to September 30. Every $10 donated will serve as an entry to win free ice cream cakes for a year from Carvel. Plus, donors who contribute $25 or more are eligible to receive a commemorative Fudgie the Whale plush toy.
Another way guests can contribute to Fudgie's cause this summer is to look for the Save the Whales emblem on Fudgie the Whale cakes exclusively sold at local Carvel shoppes. A donation will be made to Save the Whales for purchases of these specially marked cakes. In addition, the first 70 guests (per shoppe) who buy a Fudgie the Whale cake, beginning June 1, will also receive a commemorative cake server with their purchase.
---
About Carvel Ice Cream
The United States' first retail ice cream franchise, Carvel® Ice Cream has become one of the best-loved and most recognized names in its industry. The company is a leading provider of premium soft ice cream and hand dipped ice cream products, as well as uniquely shaped ice cream cakes, including its signature Fudgie the Whale® and Cookie Puss® cakes. Atlanta-based Carvel currently has more than 400 franchised and food service locations. Visit
www.carvel.com
for more information, follow us on Twitter
@CarvelIceCream
and
Instagram
or become a fan on
Facebook
.
TOP