Connect With Us
MEDIA INQUIRIES:

Media Gallery
Want a closer look at our treats and shoppes? Download our logo and assets.
Take Me There
The Forecast for the First Weekend of the Summer: FREE "Sprinkles" at Carvel®
June 20, 2018
Atlanta, GA
---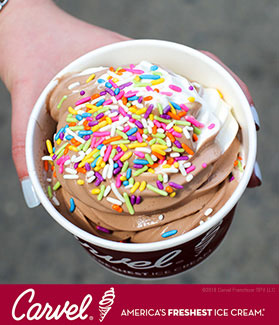 The first day of summer is finally upon us and with the warm weather comes ice cream! On the first weekend of the summer season, sunshine or not, "sprinkles" are in the forecast at Carvel®. Carvel will add FREE sprinkles to top any order to kick-off the "coolest" celebration of long-awaited summertime fun. FREE rainbow or chocolate sprinkles will be offered all day from Friday, June 22 through Sunday, June 24. "No one knows better than Carvel that summer officially marks ice cream season," said Scott Colwell, president of Carvel. "While rain is often wished away, Carvel can turn any form of sprinkles into a joyous occasion!" To stay connected to all things Carvel, follow the brand on Twitter and Instagram at @CarvelIceCream, like it on Facebook at www.facebook.com/CarvelIceCream, or visit Carvel.com.
---
About Carvel Ice Cream
The United States' first retail ice cream franchise, Carvel® Ice Cream has become one of the best-loved and most recognized names in its industry. The company is a leading provider of premium soft ice cream and hand dipped ice cream products, as well as uniquely shaped ice cream cakes, including its signature Fudgie the Whale® and Cookie Puss® cakes. Atlanta-based Carvel currently has more than 400 franchised and food service locations. Visit
www.carvel.com
for more information, follow us on Twitter
@CarvelIceCream
and
Instagram
or become a fan on
Facebook
.
TOP