Connect With Us
MEDIA INQUIRIES:

Media Gallery
Want a closer look at our treats and shoppes? Download our logo and assets.
Take Me There
Carvel®…America's Freshest Ice Cream® Meets Europe's Favorite Cookie
Carvel® Cookie Butter sweeps the nation with its newest flavor in soft ice cream
March 29, 2018
Atlanta, GA
---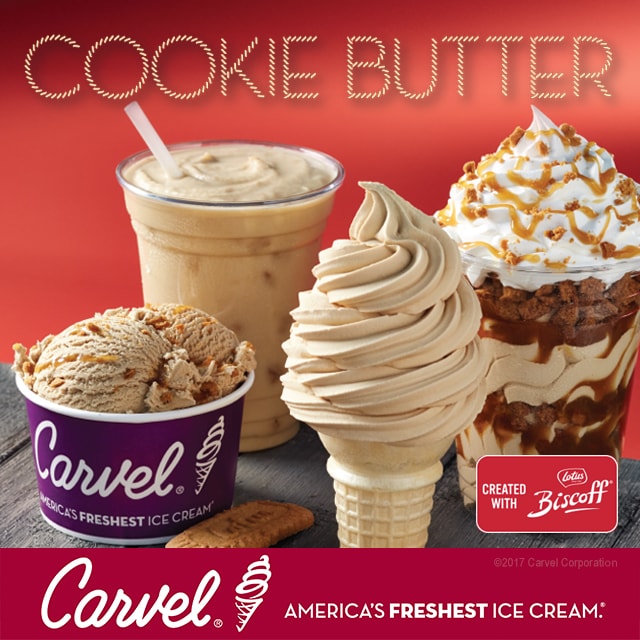 Carvel®…America's Freshest Ice Cream® joins forces with Lotus Biscoff®, Europe's favorite cookie with coffee, to debut a new flavor innovation inspired by Cookie Butter – one of the latest food trends delighting dessert lovers across the country. Carvel's Cookie Butter Soft Ice Cream made with Lotus Biscoff is now available for a limited time through May 28.
Cookie Butter is the irresistibly creamy, spreadable treat made from crushed Lotus Biscoff (speculoos) cookies. Carvel is kicking off 'Ice Cream Season 2017' by bringing this unique flavor profile to life in delicious new ways with an exciting array of frozen offerings, including:
Cookie Butter Soft Ice Cream – premium soft ice cream blended with Lotus Biscoff Cookie Butter
Cookie Butter Scooped Ice Cream – hand-scooped Cookie Butter ice cream mixed with caramel and Lotus Biscoff cookie crumbles
Cookie Butter Sundae Dasher® – layers of Cookie Butter Soft Ice Cream, caramel and Lotus Biscoff cookie crumbles, topped with whipped cream, drizzled with caramel and dusted with more cookie crumbles
Cookie Butter Shake – Cookie Butter Soft Ice Cream blended with Lotus Biscoff cookie crumbles into a thick shake
Cookie Butter Flying Saucer® – Cookie Butter Soft Ice Cream sandwiched between two chocolate crackers
Guests will have the opportunity to try the tasty new flavor for FREE on Carvel's annual Free Cone Day, which will take place on Thursday, April 27 from 3-8 p.m. ET at participating shoppes nationwide.
"Our new Cookie Butter Soft Ice Cream is the perfect marriage of two universally loved treats," said Scott Colwell, President of Carvel. "Carvel is always on the look-out for noteworthy food trends to translate into ice cream flavors. When cookie butter started to take off in the U.S., we knew it was something special. Now, we're thrilled to be the first to offer this delectable flavor in scooped and premium soft ice cream."
Lotus Biscoff Cookie Butter is the irresistible, spreadable version of Lotus Biscoff cookies, a Belgian specialty. Delectably crunchy, with a caramelized flavor, Lotus Biscoff cookies feature a unique palate of sweet and spice. For more background on Lotus Biscoff Cookies and Cookie Butter, visit Biscoff.com. For more details on Carvel Cookie Butter and to stay connected to all things Carvel, follow the brand on Twitter and Instagram at @CarvelIceCream, like it on Facebook at www. facebook.com/CarvelIceCream, follow on Snapchat at @CarvelSnaps, or visit Carvel.com.
Prices vary by franchise. If local pricing information is needed for a story or article, please reach out to Carvel@finnpartners.com.
---
About Carvel Ice Cream
The United States' first retail ice cream franchise, Carvel® Ice Cream has become one of the best-loved and most recognized names in its industry. The company is a leading provider of premium soft ice cream and hand dipped ice cream products, as well as uniquely shaped ice cream cakes, including its signature Fudgie the Whale® and Cookie Puss® cakes. As of June 25, 2023, Atlanta-based Carvel had more than 350 locations in nine countries. Visit
www.carvel.com
for more information, follow us on Twitter
@CarvelIceCream
and
Instagram
or become a fan on
Facebook
.
About Lotus Biscoff®
Lotus Bakeries is active worldwide in the indulgent and healthy snacking segment with the Lotus, Lotus Biscoff, Lotus Dinosaurus, Lotus Suzy, Peijnenburg, Snelle Jelle, Annas, Nākd, Trek, BEAR and Urban Fruit brands. Lotus Bakeries, with headquarters in Belgium, is a dynamic, internationally oriented company with production facilities in Belgium, the Netherlands, France and Sweden, and 17 company owned sales organizations in Europe, America and Asia. Lotus Bakeries also works with commercial partners in forty countries worldwide. Lotus Bakeries has approximately 1,450 employees. By maintaining a healthy balance between tradition and innovation, the Lotus brand indulges consumers with a unique range of high-quality, tasty products. With Peijnenburg and Snelle Jelle, the company is a market leader in gingerbread in the Netherlands. Under the Nākd, Trek, BEAR and Urban Fruit brands, Lotus Bakeries offers tasty snacks, manufactured from all-natural, unprocessed ingredients, with no added sugar. In 2016, the Group achieved sales of EUR 507.2 million. The shares of Lotus Bakeries are listed on Euronext Brussels.
TOP