Crunchies!
Is everything better with Crunchies? Crunch yeah! That's why our favorite crispy, magical morsels of chocolatey goodness are taking over Carvel with our NEW featured Crunchies treats! Get one today or add our one-of-a-kind Crunchies to any Carvel classic! And don't forget to check out our special edition Crunchies merch.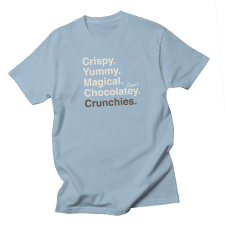 For the Love of Crunchies
Show off your undying love for Carvel Crunchies or find the perfect gift with our NEW merch!
Shop Merch
NEW Featured Crunchies Treats
---
If you like Crunchies, you're going to love our NEW Crunchies treats, packed with all of the delicious chocolate Crunchies you can handle.
TOP