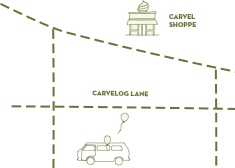 Carvel Ice Cream Store, Delray Beach, Florida
---
hours
Today

11 AM - 9 PM

Saturday

11 AM - 9 PM

Sunday

11 AM - 9 PM

Monday

11 AM - 9 PM

Tuesday

11 AM - 9 PM

Wednesday - BOGO

Buy One Get One Free Sundae Every Week!

11 AM - 9 PM

Thursday

11 AM - 9 PM
---
Order Ice Cream Cakes & Take-home Treats
Order ahead to pick up craveable ice cream cakes and take-home treats from your local Carvel.
---
services
Apple Pay

BOGO Wednesday

Custom Cakes

Delivery

Take-Home Treats
---
Location Info
Carvel...America's favorite soft serve ice cream since 1934 is serving up smiles in the Delray Beach community with delicious handmade ice cream, ice cream cakes and take-home treats.
Stop by our convenient location at 4953 W Atlantic Ave to enjoy one of our famous ice cream creations, such as a classic sundae, thick shake, Sundae Dasher®, or Carvelanche®. Take-home treats, including Carvel Flying Saucers®, OREO® Lil' Rounders®, dipped cones or Chipsters®, are also available to pick up.
You can wow guests and family members with one of our ice cream cakes. Our legendary, handmade creations combine layers of Carvel premium vanilla and chocolate ice cream with our famous chocolate crunchies. Give us a call to special order a cake in the flavor combination of your choice. We can even put an edible photo image on your cake!
All of our products are freshly handmade in our shoppe, providing you with the freshest, most delicious treats available. Come on down. We can't wait to serve you!
This Carvel Shoppe unit is an independently owned and operated franchise business.
---
TOP